Our metal cutting service
Synertek is a company at the cutting edge of technology in metal cutting. Every day, we manufacture various complex parts that meet the demand of small, medium or large productions. Our metal cutting service is offered for unique orders, but also for regular orders to supply the customer according to "just in time" logic.
Our pride: A metal cutting service that constantly adapts the production flow without sacrificing quality.
We offer laser metal cutting or die cutting services for all your metal cutting needs. We work mainly with steel, stainless steel and aluminum, but also offer services for copper and other metals.
What is laser cutting?
Laser cutting is a metal cutting technique that uses the focus of a laser beam, which raises the temperature of a metal area until it reaches the vaporization level. The power required varies depending on the type of metal and its thickness.
The heat affected area (HAA) is relatively small, which explains the little deformation undergone by the cut pieces. The cut material changes its chemical nature at the laser's impact point and generally becomes rougher.
This method allows more precise, cleaner and faster cutting for many materials.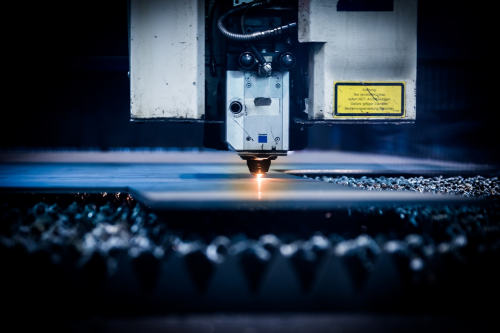 The benefits of laser metal cutting
There are several differences between laser cutting and die cutting. One of them lies in the fact that the laser beam cuts continuously, which allows it to be precise and to offer a flawless finish. Laser cutting keeps a uniform aesthetic of your metal.
We recommend the use of laser cutting for particularly complex shapes.
In addition to making a uniform cut, laser metal cutting has the following advantages:
Flexibility of shapes and cutting patterns
The continuous and aesthetic appearance of the edge of the metal parts
The possibility of identification engraving on metal (non-aesthetic)
A possible saving of material on large volumes
High speed cutting of metal in the thin material
A production capacity and autonomy of loading and unloading of sheet of metal
A definite advantage for cutting steel and stainless steel.
What is die cutting?
Die cutting is the action of shearing on a closed contour with the help of a die that acts on a matrix. The principle is comparable to shearing, so the break is after a compression effort.
Die cutting is generally used in industrial sheet metal to make holes and cut sides of complex shapes that are sometimes non-rectangular. These shapes are therefore more difficult, and sometimes impossible to achieve by shearing.
We recommend the use of die cutting for parts that require many holes, with milling, tapping or various embossing that would be too expensive or impossible to do with laser.
The advantages of die cutting
The advantages of die cutting are numerous.
For example, you can choose different types of embossers, milling, tapping or holes that are impossible to achieve with the laser cutting technique.
You can, among others, benefit from:
A large perforation area
A wide variety of embosses
Facilitating the assembly of complex parts
The ability to cut reflective materials such as copper and brass
The possible indexing of all tools on 360 degrees
Its effectiveness with aluminum, galvanized steel or satin steel.
If you want more information about laser cutting or die metal cutting, do not hesitate to contact us. A member of our team will be happy to answer you.