Enjoy professional metal engraving services thanks to our laser engraving machine. We are able to help you with all your engraving projects. Synertek is a company specialized in metal transformation services.
With more than a decade's experience, our team offers you a degree of finish to your metals that lives up to your expectations. Whatever your engraving needs, our specialists answer quickly and efficiently any specific request made by our clients. We understand that each client is unique, and we adapt quickly our laser engraving service to bring you the best metal engraving possible.
Thanks to our engraving machine, we can bring you a high-calibre laser engraving services. Our experts use stringent techniques and cutting-edge technology; this is where Synertek stands out.
For laser engraving services with an impeccable finish, you can trust our team with your projects. Whether your productions are small or large, we can meet your requirements without having to sacrifice the quality of the final result.
Our team works with steel, inox steel, and aluminium, but we are also equipped to work on other materials. Feel free to contact our specialists if you have a project on copper or other materials.
The difference between laser marking and laser engraving
There are many differences between laser marking and laser engraving. Indeed, laser marking consists in burning the surface of the metal, which will alter its properties and its appearance. Laser engraving, on the other hand, uses ultra-high heat to vaporize the metal and engrave the image.
Here follows information concerning possible dimensions for laser engraving at Synertek:
A box-style piece: 30 inches wide by 12 inches deep/long, and 30 inches high.
A flat piece: 30 inches wide by 20 inches deep/long.
Maximum dimensions per engraving setup: 7 inches by 7 inches.
Laser engraving services: different types of materials
Here are a few examples of what our laser engraving machine can do for you based on the materials used.
Engraving on inox steel
Texture : rough
Colour : yellowish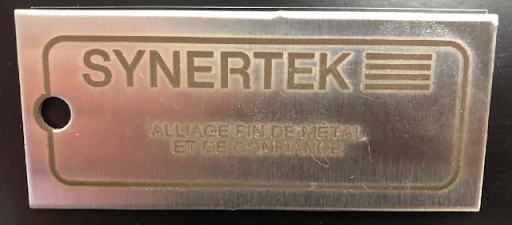 Engraving on aluminium
Engraving's results on aluminium vary depending on the depth. For a normal engraving on aluminium, the result is rough relief.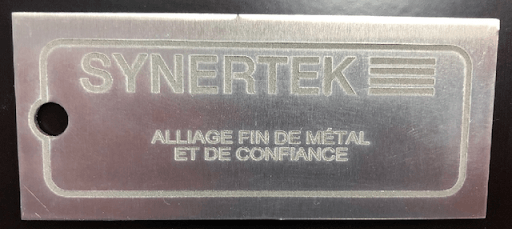 Here is the difference with a deeper engraving.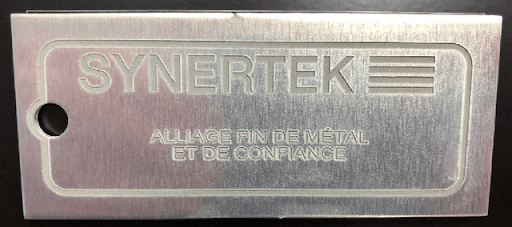 The deepest type of engraving is a recessed type. However, three passes on the metal are necessary to get this kind of effect.
Cermark marking on Inox
The method consists in applying ceramic spray paint to the piece, and baking the paint with the laser. Though, the pieces have to be washed. It gives an embossed texture that is slightly grippy/anti-slip.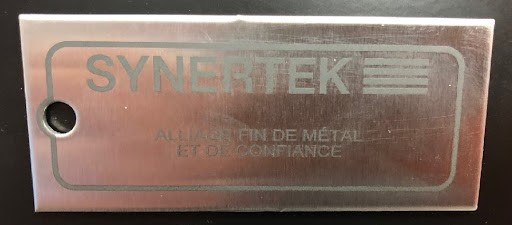 Glossy Aluminium Marking
Glossy aluminium marking gives a glossy sheen to the finished piece. This method consists in applying a special paint on the part with chromic conversion, which by heating becomes black. It also requires washing of the parts.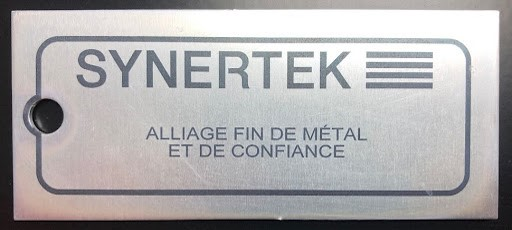 Anodized Aluminium Marking
Anodized aluminium marking involves burning the anodization and whitening the aluminium, which results in a smooth texture.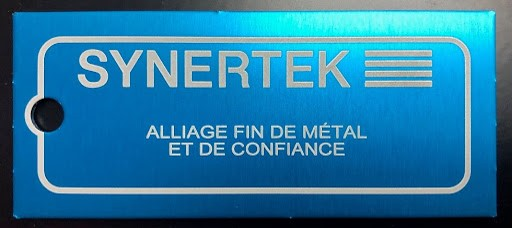 About our laser engraving services
Synertek experts work with a FIBER MARKING SYSTEM laser engraving machine, which is an inalterable laser engraver, allowing on a number of different types of metals.
Why entrust your engraving needs to Synertek ?
We have become masters in the art of metal finishing. Thanks to our laser engraving machine, we are able to complete a wide variety of projects, from the simplest to the most complex.
In addition to our laser engraving services, we also offer numerous other services, including:
Laser cutting;
Hole punching;
Polishing;
Painting;
Assembly;
We are proud to provide all our clients' needs under one roof. You can trust our team to successfully carry out your metal transformation projects.