Laser Cutting Services in Quebec
Are you looking for a company offering laser cutting service in Quebec? Trust our metal transformation specialists. We can carry out all your laser cutting projects, from the smallest to the most ambitious.
With more than ten years of experience, our seasoned workers are capable of offering you service of unmatched quality. Thanks to our high-tech equipment, we carry out all your laser cutting projects with precision and finesse. We offer impeccable results for sheet metal transformation.
In addition, we understand that each order is unique. We are therefore able to adapt and respond quickly and efficiently to the requests of our clients. Our mission is to provide the best metal cutting service on the market.
We also work with different materials, such as steel, stainless steel, and aluminum. Our team is also open to working with other metals. Don't hesitate to consult our specialists for a project with other materials.
For high-calibre laser cutting service, choose Synertek. Now, let's discover everything there is to know about laser cutting and the advantages of choosing Synertek as your metal transformation service provider.
When should laser cutting be used?
Laser cutting is mainly used for precision work or projects where the aesthetics of a piece must be preserved. Laser cutters are powerful machines, but they all start from the principle of focalization. By focusing the heat of the laser on a specific point, it is possible to vaporize the metal without weakening or deforming the metal piece.
In laser cutting, the heat-affected zone (HAZ) is smaller, which therefore lets you maintain the general aesthetic appearance of the metal sheet. Our specialists also recommend laser cutting in Quebec for all projects that require higher precision or an impeccable aesthetic finish.
Laser cutting: the advantages
There are many advantages of laser cutting in addition to precision work. Our metal transformation experts recommend this service if:
The cutting is complex
For example, if you have to transform the metal sheet into various shapes or patterns. Since laser cutting for metal plates is fast and precise, it is easier to carry out projects with a higher complexity.
The production volume is high
Laser cutting is fast and automated, so it is beneficial to opt for this service for large productions. In addition, thanks to the precision of the laser, you save on materials.
You have to engrave the piece
Although less aesthetic, laser cutting also lets you engrave the metal and leave logos, company names, etc., on it.
When it comes to steel and stainless steel transformation, laser cutting is also the best option. For all your laser cutting projects in Quebec, Synertek is the team to use.
Synertek: your benchmark for laser cutting in Quebec
Synertek is a metal transformation service provider. We also offer a full range of services besides our laser cutting service in Quebec. Among the services we offer, you will find:
laser cutting;
punching;
polishing;
painting;
assembly;
and more.
Don't hesitate to contact us to discover everything Synertek can do for you in terms of metal transformation. If you have any questions about our laser cutting service in Quebec, contact us.
Engraving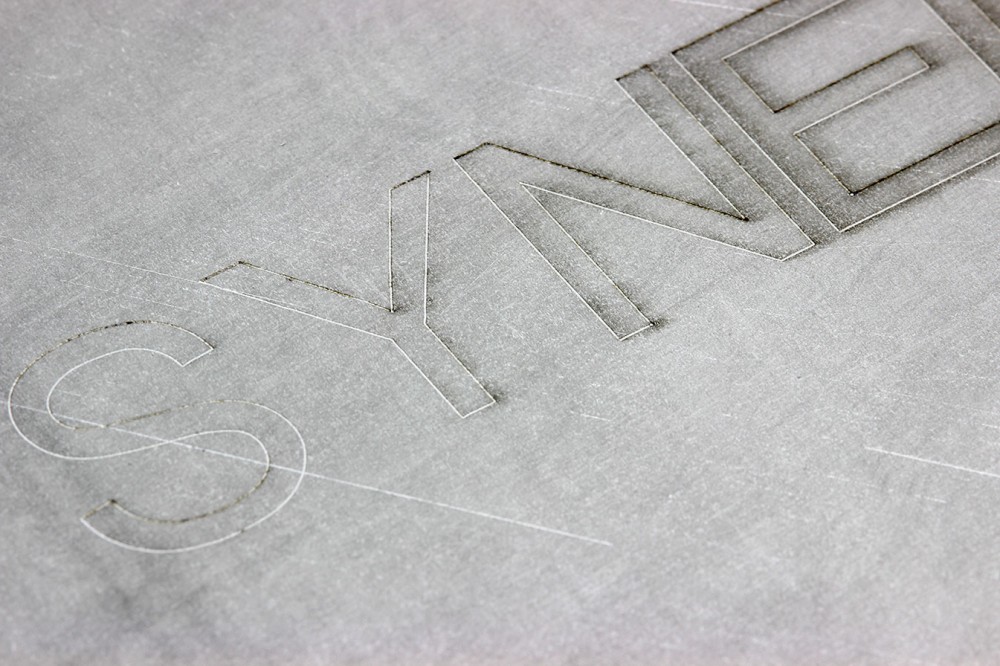 Laser engraving
Laser engraving is used to identify or position parts. It doesn't add an aesthetic quality, but it serves its purpose.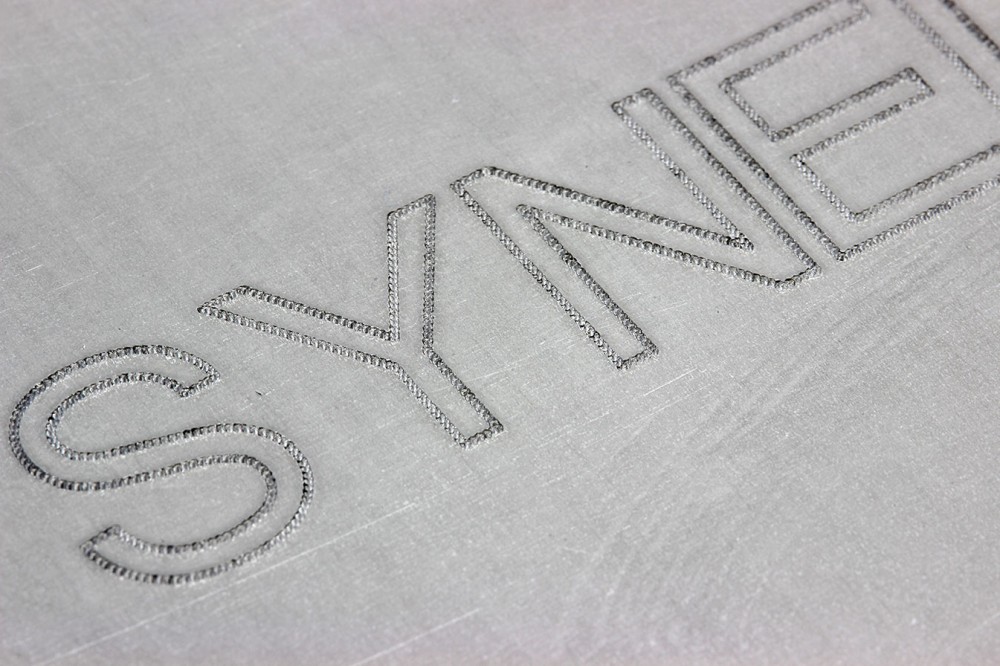 Punch engraving for comparison
Cutting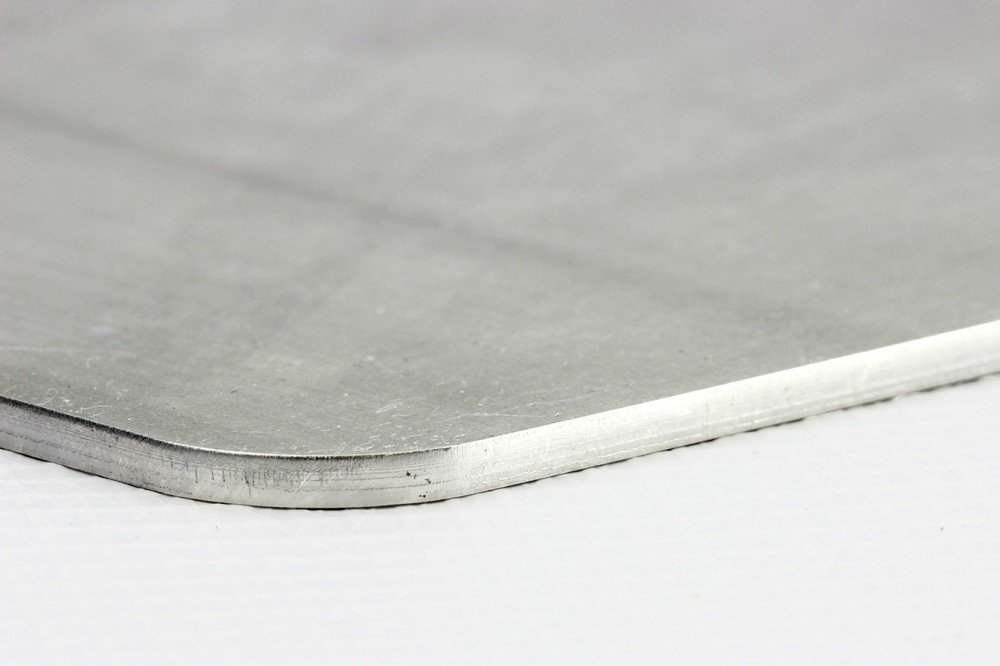 Laser cutting (edge)
A laser beam cuts continuously, unlike a mechanical punch. This technical difference means laser cutting can provide an uninterrupted, uniform look.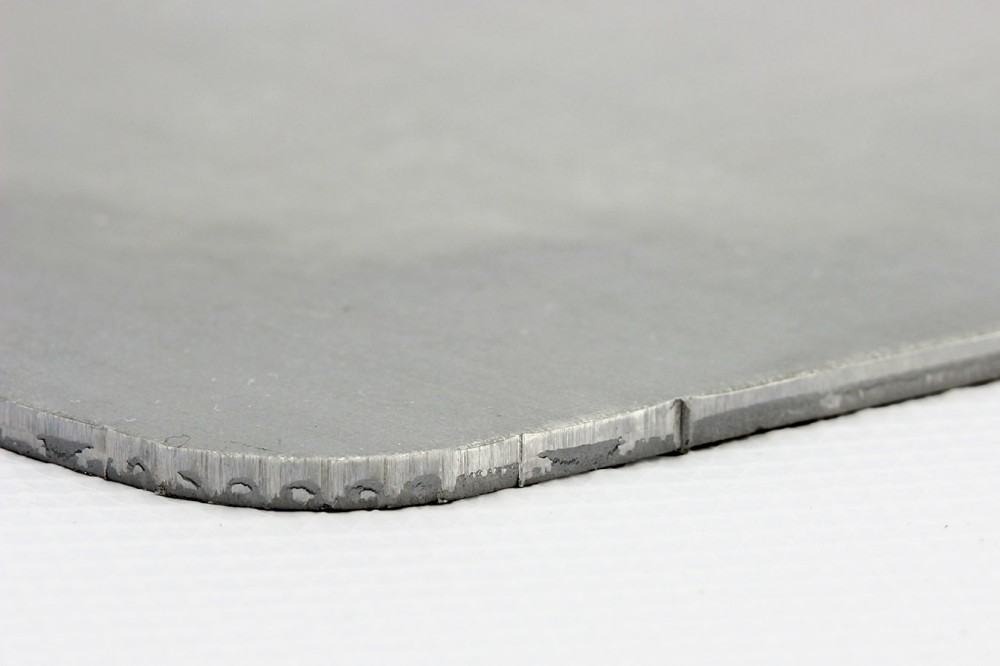 Punch cutting for comparison